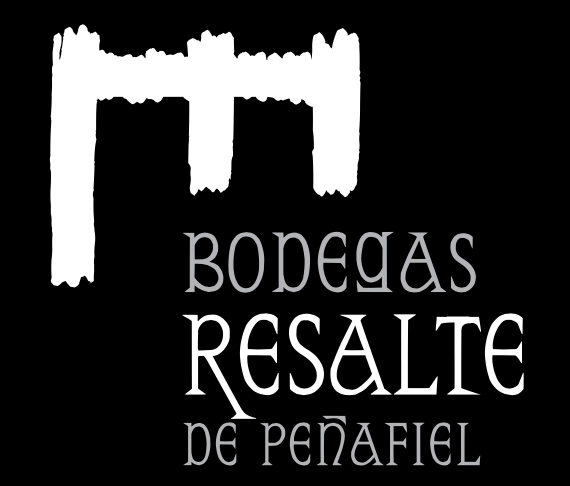 Bodegas Resalte de Peñafiel was created in the year 2000 with the aim of producing wines of the highest quality. The Bodega's logo is inspired by the battlements of the Castle at Peñafiel, a symbol of the Ribera del Duero region.
The winery is located near the town of Peñafiel, birthplace of Ribera del Duero, on "The Golden Mile" the main road between Valladolid and Soria.
VINEYARD
At Bodegas Resalte the winemaking process begins on the vine. The rigorous effort put into cultivating each and every vineyard is fundamental in producing wines with such distinct qualities. There are certain criteria involved in the making of great wine. The fine balance of our wines is the result not only of our dedication and care, but also the hard work put into the development of the vineyards and cellar. 
All year our technical department keeps close watch on the cycle of the vineyards, carrying out the comprehensive checks and practices necessary to ensure good management of the vines. Their quest is to ensure that the plants transfer all their potential into the fruit.
Each wine has its roots in a vineyard with specific and distinct characteristics, but they all share the common trait of high quality.
As the grapes arrive at the cellar we begin our method of winemaking, which is unlike that of any other winery the world over. The wine is produced using gravity, as the grapes are propelled through the process by their own weight without the use of excessive force or aggressive pumps. We consider this method to be a way of honouring our raw materials, as well as the commitment and work carried out in the vineyard.
Since the grapes from each vineyard differ, we separate quantities into different tanks. On these grapes we carry out daily analysis, temperature checks and periodic tasting which gives us valuable information about the development of the wine.
Our wines are aged in a large, dark, peaceful space, equipped with modern temperature and humidity controls. This allows us to maintain ideal conditions for the ageing of our wines, irrespective of the time of the year.
For each wine we have selected an appropriate barrel and toasting from the world's best cooperages. For every type of barrel we look for characteristics that will enrich and complete the wine without masking or altering the nature of the grapes themselves.
We take great care in the conservation of our barrels and carry out regular cleaning and maintenance of all barrels, equipment and premises. Each barrel goes through periodic tasting, analysis and refilling. Nothing can be left to chance for the guardians of our most precious treasure, our wine.
Bodegas Resalte de Penafiel wines in our collection …