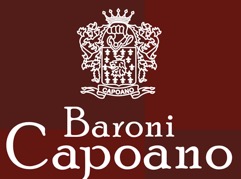 On the hillsides above Cirò Marina stands a majestic and lonely ancient building, the domus of Barons Capoano. Its founder, the Baron Raffaele Capoano, was an important person during the Risorgimento struggles for the Italian Unification. He established a brotherly friendship with G. Mazzini, L. Settembrini, P. Galluppi, M. Azeglio, L. Palmieri. Together with his friends, he organized and took part in the revolutionary risings of the Seventeenth Century which led to the Italian Unification. Then the Baron was imprisoned by the Austrians and wrote "beautiful works of patriotic inspiration". G. Garibaldi before being exiled gave him his personal sword as a gift.
The estate of Barons Capoano lies on the hillsides in the province of Crotone in the heart of the Cirò D.O.C.. The historic Capoano family boasts a range of illustrious figures, dating back over thirteen centuries, in the fields of science, history, law, art and religion. Their passion for wine production, to delight their own palates as well as those of their guests, is equally ancient.
In the family archives lies an ancient letter in which Pietro Capoano, Cardinal of Amalfi, wrote to his brother Raffaele: "Brother, I enquire you the nectar for which His Holiness has asked me to seek provision".
The estate extends over approximately twenty hectares, among centuries-old olive groves and autochthonous vineyards. From this land D.O.C. wines and oil have been produced for over two thousand years, giving prestige and authority to the real Cirò production. The cellars cover 600 sq. meters. Storage and refining the most vintage of the wines takes place in the underground vaults of the family mansion, amid stone walls 2.5 meters thick which, to this end, guarantee a constant, optimal temperature.
The province of Crotone lies facing the Ionian sea, extending over a territory whose geomorphic conformation is unusual, characterized by mountains areas, hills and plains, all within the space of a few kilometres of each other.
The area typically enjoys a temperate climate, which confers bouquet and freshness to our wines; the sloping lands have an excellent supply of minerals, allowing the production of wines with a notable fruity element, combined with refined elegance. The flavors are those typical of Mediterranean cuisine, further improved by the extra-virgin olive oil from the hilly zones and by the wines of ancient tradition.
Baroni Capoano wines in our collection …